In August 2021, the California Evidence-Based Clearinghouse for Child Welfare officially added the Attitudes Related to Trauma-Informed Care (ARTIC) Scale to their list of evidence-based measurement tools for child welfare. The ARTIC Scale received an assessment rating of "A – Psychometrics Well-Demonstrated," the highest rating offered by the CEBC. It is the only measure of trauma-informed care (TIC) listed on the CEBC.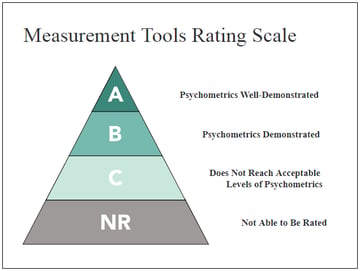 The minimum standard for this "A-rating" is publication of two or more published peer-reviewed studies that establish the measure's psychometrics (e.g. reliability and validity, sensitivity and specificity, etc.), as noted on the CEBC website. Using a tool with strong psychometric properties ensures that evaluators are, in fact, measuring what they are wanting to measure.


In 2016, a peer-reviewed article was published in School Mental Health and in 2020 a second study was published Psychological Trauma: Theory, Research, Practice, and Policy. Both articles confirmed the psychometric properties of the ARTIC Scale.


Since 2016 the ARTIC Scale has been used in hundreds of trauma-informed care studies and program evaluations globally. The Paper & Pencil ARTIC Scale version, popular with graduate students and university researchers, has been or will be translated into 8 languages (currently Spanish, French, Japanese, Farsi, and Dutch — with Turkish, Greek, and German in process). In 2019 an online version of the ARTIC Scale was launched, with user-friendly automated survey administration, data analysis, and results dashboards for organizations and individual staff. To-date the Online ARTIC platform has been used to support more than 100 trauma-informed care studies and program evaluations through more than 50,000 survey administrations.


The ARTIC Scale measures professional and para-professional attitudes toward TIC and has become a go-to measure for TIC program evaluation in a variety of settings, including:
Early childhood education/Head Start

Traditional K-12 school systems

Therapeutic schools

Child welfare systems

Behavioral health systems

Hospitals and health care systems

Juvenile justice systems
To learn more about the ARTIC Scale and how it can support your TIC program evaluation, schedule a call with an ARTIC Consultant.